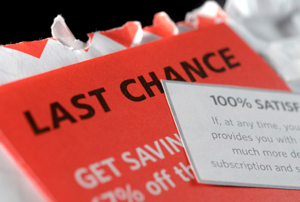 The Basics - TARGETED DIRECT MAIL - what you need to know
A Targeted Direct Mailing (TDM) is mail sent periodically to a SELECTED list of addresses.  The Addresses may be local, in a large area like Southern California or even national.  They are often a list of current and past customers or donors or volunteers.  The list may include prospects and can be acquired from a mailing list service (we can help with this).  It's best and most cost effective if the list is a electronic file.
TDM saves quite a bit of money versus First Class Mailings for 2 reasons: Addressing is done electronically (versus by hand) and saves time and cost.  Electronic addressing allows the addition of bar codes to each piece, qualifying you for the USPS lowest postal rates.
Who uses TDM?  Small to large companies and non profit organizations from Signature Graphics to AT& T and most financial service organizations.  Most have been doing this for many years and consider TDM a critical element of their marketing growth plan.
What does TDM look like?  It's the post cards, envelopes and mailers that arrive in the daily mail and are addressed to a specific person in your organization.
Is this Every Day door Direct Mail? - No - that's a different type of Marketing Mail. (click on the EDDM Basics Page).  Ask us to show you the best plan for you - simply ask us for a quote or a more general exploration of the topic.  Contact us on line and we'll be happy to help.